Sponsorship Opportunities
The eChallenges Conference & Exhibition Series is one of the most prestigious international conferences in the ICT research calendar. eChallenges e-2007 attracted over 670 delegates and speakers from commercial, government and research organisations from over 54 countries around the world.
Confirmed sponsors for eChallenges e-2008 include Ministry of Enterprise, Energy and Communications, VINNOVA (Swedish Governmental Agency for Innovation Systems), City of Stockholm and County Administrative Board of Stockholm. eChallenges e-2008 is also Supported by the European Commission and Technical Co-Sponsored by IEEE.
Previous sponsors include the European Commission, the Generalitat de Catalunya, Ajuntament de Barcelona, ENISA, Municipality of Bologna, Municipality of The Hague, City of Vienna, Austrian Federal Ministry of Transport, Innovation & Technology, Austrian Federal Ministry of Economic Affairs & Employment, Ministry of Economic Affairs The Netherlands, Slovenian Ministry of Higher Education, Science & Technology, Alcatel, Hewlett-Packard, IBM, KPN and Telekom Austria.
We are delighted to be able to offer two sponsorship levels at e-2008 to raise the international profile of your organisation within the international IST research community - Diamond & Platinum. Each sponsorship package offers sponsors different levels of visibility at the event and benefits. All sponsors are acknowledged in the conference documentation and on the eChallenges portal. Further acknowledgement and benefits are associated with each sponsorship package as outlined below. The organisers will be happy to discuss custom sponsorship packages on request.
eChallenges e-2008 Diamond Sponsorship
Diamond sponsors may choose to sponsor one of the remaining attractive items:
Option 1
Official Sponsor of eChallenges e-2008 International Research Exhibition
Option 2
Official Sponsor of eChallenges e-2008 Conference Proceedings Book
Option 3
Official Sponsor of eChallenges e-2008 Networking Lunch on Day 1
Option 4
Official Sponsor of eChallenges e-2008 Networking Lunch on Day 2
Plenary Speaker
Opportunity to nominate a thematically relevant keynote plenary presenter for inclusion in the conference programme
Workshop
Opportunity to organise a workshop showcasing relevant case studies/activities, content focus to be agreed in advance with Conference Chair
Exhibition
Prime Location FREE exhibition booth, 3 m x 2 m
Visibility on eChallenges portal
Logo (with organisation hyperlink), 500 word organisation profile provided by sponsor
Visibility on conference bags
Logo of sponsor inserted on conference bags, distributed to delegates upon registration
Visibility at the event
Logo & banners (to be supplied by sponsor) in relevant areas of the conference (Option 1, 3 & 4); Logo & description profile on compliments card (provided by sponsor) inserted in the proceedings distributed to all registered delegates (Option 2)
Visibility in the event programme
Recognition on all printed conference documentation.
Visibility in event documentation
16 page brochure supplied by sponsor, inserted in conference bags with all official event documentation (subject to receipt by agreed deadline)
Complementary registrations
12 FREE registrations including participation to the social events organised by IIMC, (excluding those organised by 3rd parties).
eChallenges e-2008 Platinum Sponsorship
Platinum sponsors may choose to sponsor one of the following attractive items:
Option 1
Official Sponsor of eChallenges e-2008 Networking Lunch on Day 3
Option 2
Official Sponsor of eChallenges e-2008 morning and afternoon coffee breaks on Day 1
Option 3
Official Sponsor of eChallenges e-2008 morning and afternoon coffee breaks on Day 2
Workshop
Opportunity to organise a workshop showcasing relevant case studies/activities, content focus to be agreed in advance with Conference Chair
Exhibition
FREE Exhibition booth, 3 m x 2 m
Visibility on eChallenges portal
Logo (with organisation hyperlink), 250 word organisation profile to be provided by sponsor
Visibility on conference bags
Logo of sponsor inserted on conference bags, distributed to delegates upon registration
Visibility at the event
Logo & banners (to be supplied by sponsor) to be displayed on relevant day(s) in the networking areas in relation to sponsorship of lunches (Option 1, 2 & 3)
Visibility in the event programme
Recognition on all printed conference documentation.
Visibility in event documentation
8 page brochure, supplied by sponsor, may be inserted in the conference bags with all official event documentation
Complementary registrations
9 FREE registrations including participation to all the social events organised by IIMC, (excluding those organised by 3rd parties)
Sponsorship applications are considered on a first come, first served basis. For further information on sponsorship or exhibitor opportunities, please contact the conference organisers:
Paul Cunningham
IIMC International Information Management Corporation Ltd
Tel: +353-1-8170607
E-mail: secretariat@eChallenges.org
Major Sponsors



Supported by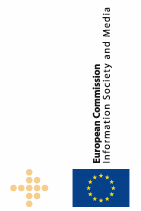 Technical Co-sponsor