Registration for eChallenges e-2003 may be carried out on-line where payment is being made by credit card or alternatively by printing off the registration form provided in the Advance Programme and submitting it by fax or post to the Conference Secretariat, with payment details.
Conference Fees
All countries except ACC and NIS
500
Associated Candidate Countries (ACC)1
400*
Newly Independent States2
400*
1 Bulgaria, Cyprus, Czech Republic, Estonia, Hungary, Latvia, Lithuania, Malta, Poland, Romania, Slovakia, Slovenia, Turkey
2 Armenia, Azerbaijan, Belarus, Georgia, Kazakhstan, Kyrgyzstan, Moldova, Russia, Tajikistan, Turkmenistan, Ukraine, Uzbekistan
* Discounted fee subsidised by the eChallenges Consortium

Early bird - up to 31 July 2003
550
Full Fee
685
All Conference Fees include Italian VAT@20%.
The Conference Fee includes:
entrance to all plenary and parallel sessions
entrance to demonstrations and displays
documentation with proceedings on CD-Rom
two volume book (worth over 200 euros) with text of all papers
three luncheons and refreshments at morning and afternoon breaks
Gala Reception
Cocktail Party
Cyber Cafe facilities
transfers to and from the airport and conference site
e-2003 Conference Secretariat
ADERA SERVICE

Next steps
If you are already registered on the eChallenges portal, please click Log in. If you are registering for the first time, please click New User to start the registration process.

Registration for e-2003 is now closed.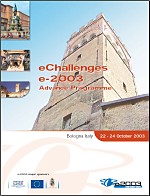 Click here to download Advance Programme