Accommodation
Accommodation

As the Grand Hotel Union is located in the heart of the city centre close to the business district and the principal train station, delegates will have ample opportunity to take advantage of the surrounding attractions.
Grand Hotel Union have been appointed as official booking agent for hotel accommodation for e-2005, and can be contacted by e-mail: Tina Senk Grand Union Hotel or phone +386 1 308 1957. They offer a selection of five, four, three and two star hotels, most of which are situated close to the city centre and very well served by public transportation. Click here to download an overview of the hotels being offered on a first-come first-served basis. To save this overview of hotels, right click on your mouse and choose Save Target As.
Delegates should download the hotel booking form, complete and return by fax to +386 1 308 1908. While Grand Hotel Union will try to accommodate delegates' first choice, it is important to bear in mind that rooms will be allocated on a first-come, first-served basis and your first choice cannot be guaranteed. Delegates are strongly recommended to book their accommodation early.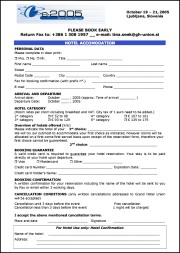 Click here to download the Hotel Booking Form. To save the form, right click and Save Target As.